Zhanqi Cui (崔展齐)
---
[Research Interests] [Projects] [Publications] [Presentations] [Activities] [Tools]
---
Aspect-oriented software modeling, testing, and verification
Model-based software testing
Hybrid testing techniques based on static analysis
---
Ph.D. Department of Computer Science and Technology, Nanjing University, June 2011. Worked with Prof. Xuandong Li and Prof. Linzhang Wang.
M.S. Department of Computer Science and Technology, Nanjing University, Upgraded to Ph.D. June 2008. Worked with Prof. Xuandong Li and Prof.Linzhang Wang.
B.S. Software Institute, Nanjing University, June 2005

---
Modeling, testing, and optimizing technologies for error control polices of deep space probe systems (Nanjing University, 2008CL07, PI)
An aspect-oriented approach for modeling, testing and verification of nonfunctional specification of software systems (China NSF, 60603036)
An UML-based approach for testing and verification of software security(Jiangsu NSF, BK2007139)
Jasmine: A model-driven testing and verification framework (Jiangsu Software Testing Center)
A production line for analysis and evaluation of software dependability (863 High Tech Plan, 2007AA010302)
---
Journal:
崔展齐, 王林章, 刘慧根, 李宣东, 面向方面的误差处理技术:实例研究和评估, 软件学报, 2011年11期, 2639-2651. (EI: 20114814570359).
崔展齐, 王林章, 李宣东, 一种目标制导的混合执行测试方法, 计算机学报, 2011年6期. 953-964. (EI: 20112814137475).
Peer Revivewed Conference and Workshop Papers:
Posters:
Zhanqi Cui. Modeling, Verification, and Testing of Non-Functional Requirements with Aspects. Student Poster Event of the 8th International Conference on Aspect-Oriented Software Development, Charlottesville, Virginia, USA, March 4, 2009.

Technical Report:

Zhanqi Cui, Wei Le, Mary Lou Soffa, Linzhang Wang, Xuandong Li. MAGIC: Path-Guided Concolic Testing.
Zhanqi Cui, Linzhang Wang and Xuandong Li. Jasmine-AOI: A Tool to Integrate Aspect with UML Activity Diagrams.
---
Presentations
Modeling and Integrating Aspects with UML Activity Models, SAC, Honolulu, Hawaii, USA, March 12, 2009. (Slides)
Computational Error Handling as Aspects: A Case Study, PLATE, Charlottesville, Virginia, USA, March 3, 2009. (Slides)
---
Past:
---
---
[Research Interests] [Projects] [Publications] [Presentations] [Activities] [Tools]
---
  Visitors of my homepage: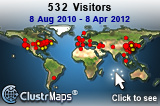 Last update: